Shayari Quotes / Shayari Cards
Shayari Quotes are created by Shayars in the form of poetry that is called shayari. It's traditional that this form of poetry is often read to an audience in a special setting called mehfil. Although there are many professional shayars, who create shayari for their livelihood, it is an immensely popular form of poetry for amateurs. Thus, the inspiration for amateur shayari is still largely romance and beauty. However, professional shayars tend to write more on social issues, that is, more popular for a larger section of society. (Source: en.wikipedia.org)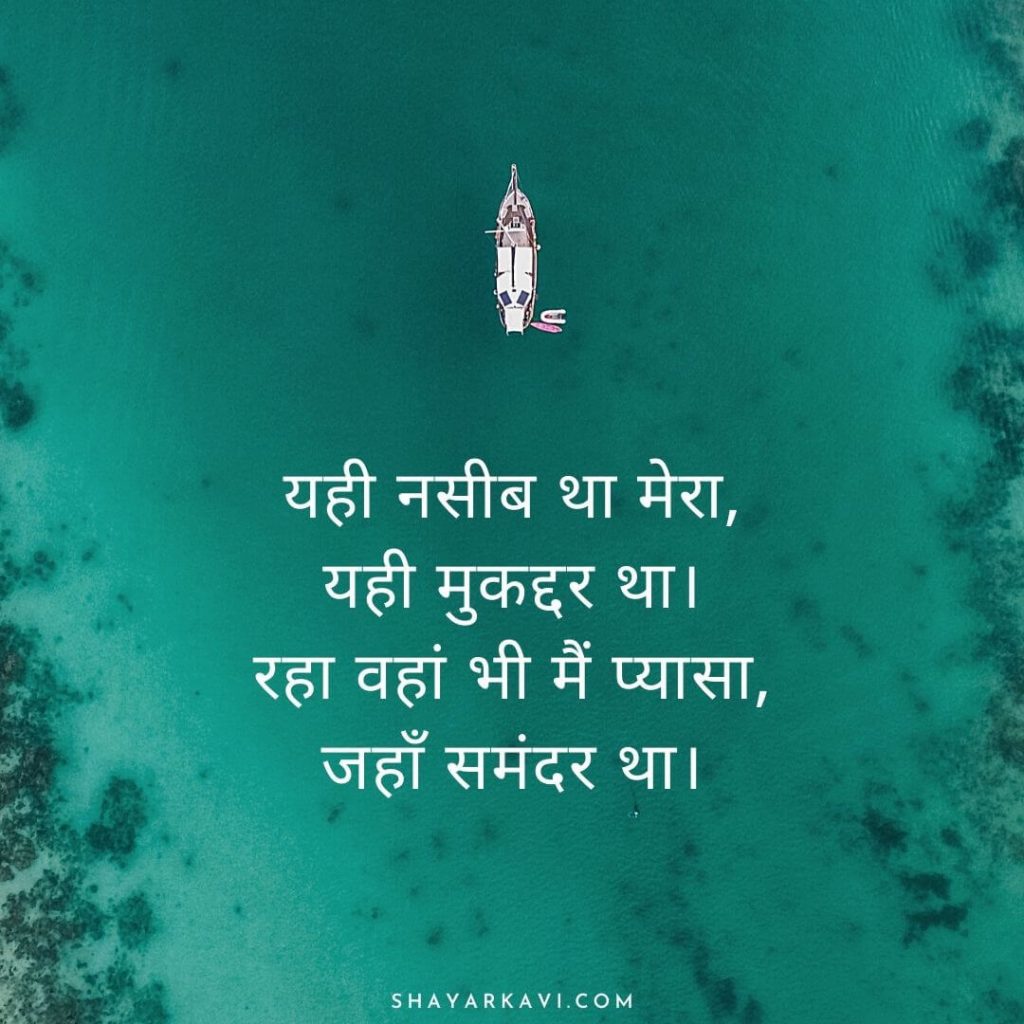 What are Shayari Quotes or Shayari Cards?
This contains an illustrated message that expresses, either seriously or humorously, affection, gratitude, goodwill, sympathy, or other sentiments. Therefore, send your favorite Shayari Quotes to your dear ones.
ShayarKavi focuses on utilizing these Shers and creating beautiful-looking image cards. As a result, these can be shared over WhatsApp, Facebook, Twitter, and Instagram.
Firstly, these quotes in the form of cards are updated regularly, so that, you have fresh images. Secondly, not only Shayari Quotes are available on this site, but also other wish cards, such as Good Morning, Festival wishes, Happy Birthday, Happy New Year cards.
Moreover, send your suggestions, cards, related work, so that, we can incorporate them and give you the credit.
Urdu Shayari:
In conclusion, Urdu Shayari is a rich tradition of poetry and has many different forms. Today, it is an important part of the cultures of South Asia. According to Naseer Turabi there are five major poets (shayars) of Urdu which are:
1. Mir Taqi Mir:
Mir Muhammad Taqi Mir (February 1725 – 20 September 1810). He was an Urdu poet of the 18th century Mughal India, and one of the pioneers who gave shape to the Urdu language itself. He was one of the principal poets of the Delhi School of the Urdu ghazal. and is often remembered as one of the best poets of the Urdu language. His takhallus (pen name) was Mir. He spent the latter part of his life in the court of Asaf-ud-Daulah in Lucknow.
3. Mir Anees:
Mir Babar Ali Anees (1803–1874), was an Urdu poet. He used his pen-name (thakallus) of Anees (means "close friend, companion") in poetry. Anees used Persian, Urdu, Arabic, and Sanskrit words in his poetry. Anis wrote prolonged Marsias, which was a custom of his times, but nowadays only selected sections are narrated even in religious ceremonies.
4. Allama Iqbal:
Sir Muhammad Iqbal (9 November 1877 – 21 April 1938) was a South Asian Muslim writer, philosopher, and politician, whose poetry in the Urdu language is among the greatest of the twentieth century. Iqbal's poetic works are written primarily in Persian rather than Urdu. Among his 12,000 verses of poetry, about 7,000 verses are in Persian.
5. Josh Malihabadi:
Josh Malihabadi (5 December 1898 – 22 February 1982) popularly known as Shayar-e-Inqalab (poet of revolution) is regarded as one of the finest Urdu poets of the era of British India. Known for his liberal values and challenging the established order, he wrote over 100,000 couplets and more than 1,000 rubaiyat in his lifetime.
Source: en.wikipedia.org
Shayari Cards
---
SHAYARKAVI

Please check short biographies of great shayars and poets along with their achievements and work. In addition, watch the famous video songs where the lyrics are from legendary poets.

You can also use this website to convey your message to your loved ones with Shayari Cards. Different kinds of wishes like Good Morning, Happy Birthday, Happy New Year,Festival wishes etc., are available in the form of shareable cards for our readers. Moreover, all the images are social media friendly and can be easily shared on WhatsApp, Facebook, Twitter, and Instagram.
There is an opportunity for our visitors and readers too. Therefore, we invite you to share your self-written poetry. Please feel free to Contact Us.